Military Spouse Resource Page

---
Thank You
Hi there! Welcome to my Military Spouse Resources page! "Iím glad to have you."
Perchance you are new to this military life; or youíve been around it for a little while like myself (9 years Hooaa) or you are or were a "military brat"; maybe your spouse has retired . Either way it doesnít matter because youíre all "family" and most welcome here!

At some point you may find yourself needing some information on alimentation for the Military Spouse - I hope I can help in providing you with some resourceful information.

One these days you might find yourself "in a pickle" (which I hope not) when your spouse is in the field, out to sea, or PCSíd somewhere without his/her family and you donít know what to do or have the resources available.
Here are a few places you could go for help:
Your spouse's Unit
The Chaplain or your local parish.
Family Support Group
The Red Cross
MWR - Morale, Welfare, & Recreation
Military Loan Closet - I hope you have one. The name says it all; they loan you things you might need in a jiffy like dishes, pots and pans, cookie sheets (so you donít have to go out and buy 4 sheets when youíre baking cookies for the Unitsí fund-raiser *LOL*), cribs, car seats, high chairs, and even fold up mattresses; boy let me tell you that comes in handy when have company!

Possibly you have some extra time on your hands and discover yourself bored!! "Been there/done that." "Hated it" So what do you do? Iím going to tell you. You can do A LOT. You might not realize it yet though. Iíll give you some ideas:

∑ Volunteer! This is so important to the military community. We survive on volunteers!! You can volunteer with MWR, The Red Cross (Nationwide organization), The post/base hospital (almost any department) and dental clinics and the ASYMCA (Armed Forces YMCA) love volunteers too. And letís not forget about our spousesí unitÖ sometimes there are things that can be done or activities that they need help with.
If it seems like I am pressing this issue, I am. I am proud to be an American Red Cross volunteer and IĎve been one for many years now. It is so rewarding helping people when you can. Plus itís fun getting the pins and awards! *VBS*

Take some classes at the local Vo-Tech or College. If one is not close by, try mail order ones. Letís not forget about the Education Center on post/base. If you have one. (Hope you do)

Sign up for "The Wives Club" or "Husbands Club" and your Family Support Group - try to get out and meet other people.

Meet up with friends at a Dance Club or the Saloon(whatever you want to call it)~ Itís fun having a "ladies nite out" or a "guys nite out"!! Just proceed with caution & of course don't make a habit of it.

Sign up for some classes at "The Arts & Crafts" center. (If you have one) Or start a new craft project. Teach yourself. Itís always so rewarding when you make something homemade. *S*

Read a book - go to the library.

Spend some quality time with the kids.

Go for a walk or the gym.

If you don't have a job... all bases/posts should have an Employment office. Civil Service & NAF also AAFES Getting a job on post/base can be quite fun.

---
Military Links
US Airforce:
US Army OFFICIAL homepage:
U S Marines:
U S Navy:
D F A S:
A AFES:
The U S Constitution:
The White House:
Janes Defense Weekly: Keep up with the Military news.

---
More Links
Women Of The Military Homepage: Focused on the Woman serving in our Military. Does include a place for the husbands too. Just go to "the other half" to view. Interesting news and info. to read on this page also.
Young Military Wives: The name says it all... well - ok- almost. It's for wives ages 30 and under. Inclues a chat room , a Web ring, Etc.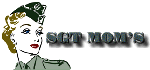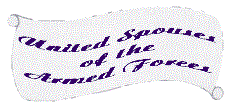 ---
---



My Links


*Just to let you know: This page has different interest catagories to choose from. Which include: Military; Parenting & Children; Sports, Entertainment, & News; Home & Garden, & Cooking/Recipes; and Graphics & Web page design.





---

Military Spouse Resource Page has been viewed
times.


A tremendously huge Thanks to "Dakota" who made use of these graphics available! She even made one on special request!!! Thank You *VBG*
Sign my Guestbook